New! Charlie Parker is back in book #15, Legends Can Be Murder – Pre-order it Now!
I'm excited to announce that November 15 is the release date for the next Charlie book.
Legends Can Be Murder
was a lot of fun to write. You may remember a hint dropped in the last book, where Drake has agreed to take a summer job in Alaska—well, this is it!
Charlie goes along and the two of them are working for a tour company called Gold Trail Adventures in Skagway; they will be piloting guests into the Alaskan wilderness to stay in cabins and try their luck searching for gold. Right away, one of the guests finds a set of bones in a cave, human remains that have obviously been in that spot for decades. The police chief has more to do than track down 40-year-old missing person reports so he leaves that task to Charlie and her new reporter friend, Mina.
Meanwhile, the world of the 1890's Gold Rush comes alive for Charlie when she discovers a box of old letters from one of the hopeful stampeders to his wife back in San Francisco. The closer she gets to answers about the mysterious bones, the more it appears that someone in present-day Skagway will do almost anything to stop her.
You can
pre-order the e-book or paperback
at Amazon, Kobo and Apple. Clicking Pre-order gets you on the list to receive yours on the day of release. Your credit card is not charged until the book is delivered to you.
Working Beneath The Squirrel Super-Highway

It's autumn and the critters here at our mountain home are busy, busy, busy! Sitting at my desk I kept hearing a thump-clatter-clatter above my head. Wondering what on earth was going on I started watching.

An ambitious little family of squirrels have devised a pathway from our blue spruce trees in the front yard, which are full of cones at the moment … across the railing around our deck … a leap to the big ponderosa pine outside my office window, through the branches of the tree … another leap to the roof above my office (that big old thump!) … down the steeply pitched roof and another jump into the tree between our house and the neighbor's.

I lost track of them after that, but I suspect the neighbor's wood pile might be concealing several thousand pine cones by now. And now you know just one of the many little distractions that a writer uses to avoid having to come up with a new plot idea!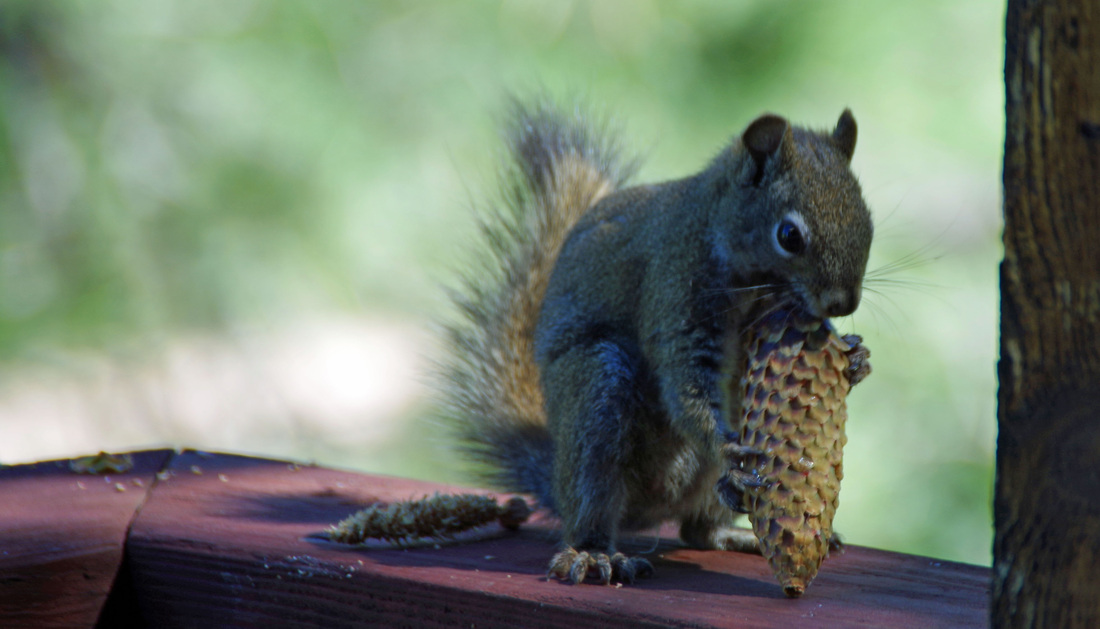 This little guy stopped on the railing for a bite to eat.
Readers Ask:

Q. Edel in Ireland asks if I have a favorite time or place to write, and wonders how I keep track of my story ideas.

A. Great question, Edel! I tend to be a morning person and I find it easiest to start my writing day by getting up early, making my first cup of tea, and getting right to my word processing program (avoiding email, as that can really distract me). I write on a laptop, usually at my desk, usually with papers, notebooks, plot outline and dictionary spread out around me. I write as non-stop as possible for 2-3 hours, then I'll take break to look at the morning's emails, have some breakfast, go for a walk with my husband. After that, I'm back at the manuscript for another 3-4 hours. Afternoons are usually devoted to answering fan mail, book promotional activities, or just taking care of business. By evening I'm usually reading for fun (I read 1-2 books a week just for pleasure) or relaxing in front of the TV with hubby (we've recently become hooked on the series Fringe). Even when otherwise occupied, I always keep a little notepad and pen at my side, which leads me to …

Keeping track of story ideas—I never rely on memory. If a great idea comes to me I write it down as quickly as possible. I have an "Ideas" folder that is full of little scraps, newspaper clippings, photos, plus several composition books with the beginnings of plots—whatever has sparked an idea at some point in time. I just went through that folder last week, mining for ideas to include in the next Charlie Parker book, and came across notes that have been in there since the early '90s and ones I added as recently as last week.

When I taught writing classes and in my online course, Novel In A Weekend, I have always encouraged my students to keep such a folder. You may never use some of them, but then again better to have too many ideas than to face a blank page or screen with no clue what to do about it.



This Month's E-Reader Winner!

Scott in Virginia was drawn as September's winner. He chose a $100 gift card, since he and his wife already have e-readers and his whole family loves to read. Great choice, Scott, and thanks for being a subscriber!


What People are Saying!

"I love this series. As always an interesting story with many different intertwined happenings. Characters are believable and you find yourself caring about them. Sam and Beau are a great team. Had trouble putting it down! Get yourself a comfy chair, something to drink and make the time to read it all!"
-Eileen about Sweet Somethings on Amazon