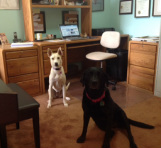 My summer started off with a rush, and hasn't let up one bit. First thing, I began the massive chore of organizing my office (helped here by my two able assistants!). There comes a point where all those research papers and old manuscripts just become clutter. Not to mention the four outdated computers, spare furniture and two printers that took up way too much space. Loads of stuff went to the library fundraiser flea-market and I started fresh with a clean desk. I love it!
Two months now have been a flurry of activity, including cookouts with neighbors, out of town family visitors, breakfasts at our favorite local spot, and lots of walks with the dogs. My home page shows where most of my attention has gone--a new Samantha Sweet book for all the fans who have written to ask when there will be another. I wrote the first draft this past spring, followed now by rounds of revisions, red penned notes by two editors, and final read-throughs to try and catch any fumble-fingered typing I might have missed.

And ... You'll see that Charlie and her pooch, Rusty, were invited to become part of a fantastic boxed set of cozy, pet-themed mysteries. There are 8 great writers in this group (all best-sellers!): Carole Nelson Douglas with her inimitable Midnight Louie, Harper Lin, Joanne Pence, Leighann Dobbs, Pamela Dumond and Denise Dietz all contributed full-length books. Carolyn Haines (recipient of the Harper Lee Award) even wrote a bonus novella especially for this set. It's never been published anywhere before. For those who love animals--don't we all?--and those who love mysteries, this set called Killer Tails should be loads of fun. I know I can't wait to read all these myself!

Plus, there's more ... I'm currently working on the next Charlie Parker book and hope to have it finished before the end of the year. I also have a little something up my sleeve, which I plan to have finished before Christmas. More about that as I get the details worked out.

It's hard to believe school starts in about two weeks here in our neck of the woods ... summer really does rush right on by, but I'm so happy and grateful to be able to do what I do and stay in touch with my fans!

Take care and enjoy your summer!