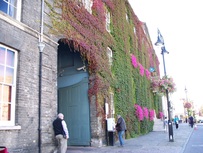 When I got the chance to visit the historic Suffolk town of Bury St. Edmunds I knew I would find a mystery there. The place is loaded with history, and haunted sites abound. First stop was our hotel, the Angel, where Charles Dickens stayed and which he mentioned in his book The Pickwick Papers. Although I did not get the chance to stay in his room, hotel staff were very courteous and happy to show it to me. It's very small and cozy—I could really imagine stowing away and writing in that perfect little space!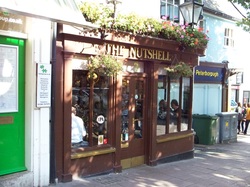 Elsewhere around Bury, the Abbey Gardens across from the hotel was a charming place to stroll and think. The town's narrow cobbled streets and historic shops further added to my list of places to set imaginary scenes. The story of the Nutshell Pub, where a mummified cat still lends its presence, was a must to be included in my story.
Of course, I wanted to place my own characters there and come up with a story both modern-day and with a whiff of all that delightful haunted stuff. To taste the Cornish pasties and browse the shops (I love buying clothes that I would never find at home!), drink tea as only the English make it and walk the same streets Dickens walked … all of it added richness to my imagination and helped me put Charlie Parker into a new setting far from her native New Mexico.

Where do writers get their ideas? Wherever we happen to be!