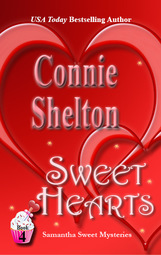 Each month I give a little background on how I came to write one of my books. This month, since Valentine's Day comes very soon, I'd like to talk about my fourth Samantha Sweet book, Sweet Hearts.

As you know if you've followed this series, in the previous book Beau proposed to Sam and her daughter suggested the very romantic notion that the wedding should happen on Valentine's Day. But it wouldn't be a story if there weren't some hurdles along the path, and this one is no exception.

For starters, there's a funeral. I won't give out a spoiler for those who haven't gotten this far in the series yet … but we've lost an important character and those left behind are grieving. Sam is also facing one of the biggest holidays of the year for her new pastry shop, going into it with no clue how busy she'll be. Topping it off, along comes Beau's old girlfriend and she's intent on getting Beau back before he can say "I do."

It's a challenge for a writer—to create a romantic story, a Valentine setting with a character who owns a bakery without making the whole plot absolutely sticky-sweet. Each time the story line threatened to become a little too mushy I had to find a few obstacles, and that's where the ex-girlfriend and a few other things came in.

Sam's own moods and personality become a bit of an obstacle too, as she deals with the pains of a growing business and balancing her love life with her dream career. Who among us hasn't faced something similar?—work commitments and family time often come into conflict.

And that, I think, is one of the things that has made my characters and storylines work so well—they are filled with the sorts of real-life events we all deal with. Work, love, marriage, family, emotions, successes and losses … we can all relate. And if there's an occasional crime, a whole bunch of chocolate and a little magic added to the story mix, well, so much the better!