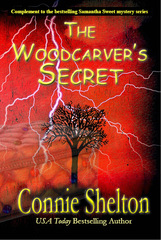 Fans of my Samantha Sweet series often ask questions about that magical wooden box bequeathed to Sam in the first book. We're intrigued by its powers and how a simple box came by such energy as it displays in the stories. Where did the box come from? Was it magical before Sam got it?

Well, I found myself wondering those same things, so I set out to create a story that could explain it. I began with the old woman who gave Sam the box. Bertha Martinez was a simple person, living in a small New Mexico town and although she had something of a reputation for being a bruja, or witch, I always felt there was more to her than we could guess from the rumors and stories. I created a history for Bertha. Then I wondered, who had the box before she got it? And who owned it before that person?

A monster of a book was born. I had to take this story back to the creation of the box, to the woodcarver himself. And that landed me in 12th century Ireland.

Then there was the complication that, at one point along the line, Sam discovered there were actually two identical-looking boxes (remember the uncle who left his estate to her?—if you haven't read that far in the series yet, don't worry, I won't give spoilers here). Somehow the history of the box had to encompass a lot of years, many individual stories, many outcomes to the supernatural tales. I began putting them together into a timeline, each chapter showing a different period in history with a new generation of characters.

The result is not completely history; it's not completely mystery. It does lead from the creation of the box to the day when Sam receives the artifact and it becomes part of her own story. The Woodcarver's Secret helps explain little details and blends in with events that happen to Sam in the later mystery books. I hope you enjoy it!