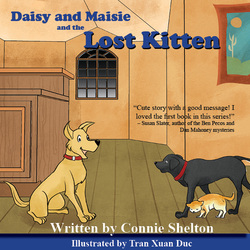 Meet Daisy and Maisie, my two favorite dogs!
When Daisy hears a noise in the night, she thinks someone new has come to live with them. Soon, she learns that getting her own way in this case is less important than making someone happy.
Click here to get Lost Kitten in paperback and for Kindle and other tablets.
What others are saying about the
Daisy and Maisie series:
"Loved the story of the two pooches on a walk in the desert. Great gift for kids - colorful illustrations and simple story that will appeal to little ones (and big ones, too!). Another solid accomplishment by this prolific writer." – VA Editor, 5 star review on Amazon for
Daisy and Maisie and the Great Lizard Hunt
"Very cute story! Can't wait to see what the next adventure is for Daisy and Maisie... they are so adorable (and mischievous)!" – Stephanie J. Dewey, Amazon 5-star review
---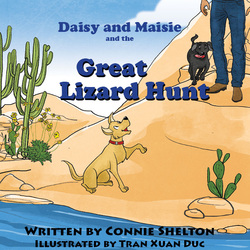 Don't Miss Daisy and Maisie's First Adventure!
I'm thrilled to introduce my first illustrated early-reader children's picture book. Meet Daisy and Maisie, my two favorite dogs.

Each story takes young Daisy on an adventure and teaches a gentle lesson. In this one, Daisy learns to look before she leaps and to pay attention to the grownups in her life.

Learn more about the real Daisy and Maisie and introduce them to the kids you love at daisyandmaisie.com. Puzzles, quizzes and more!

Click to get The Great Lizard Hunt in Paperback and for Kindle and other tablets
---